MADE in Japan
Contributing to the world
with reliable quality
CONCEPT
Company Policy
MADE in Japan: Contributing to the world with reliable quality
Even in 21 st Century, our world still sees national and regional disparity in medical care.
Developing countries are experiencing a chronic shortage of doctors and medical equipment due to unstable public order and scarcity of financial resources.
Our company, Lequio Power Technology Corporation, along with many global organizations like to overcome these obstacles in developing countries by providing for a reliable as well as affordable medical care.
We work together with local people to develop a mechanism for the provision of medical assistance to every remote place with a view to improve the level of front-line medical care while keeping a lid on costs. The more we know about the needs of the front-line providers, the more our sense of responsibility is heightened.
Our motto is to offer products made in Japan, which are truly trusted throughout the world, to all people in need.
Today, just like every day, we spread our wings around the world from Okinawa.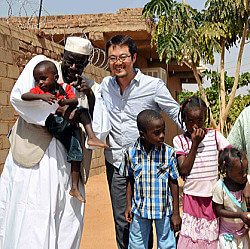 Greeting by the CEO

The 21 st Century has now started to produce significant transformation of the social structure not only in Japan but throughout the world. I believe that it is now the time for a profound review of the existing sense of values, common practices and constraints.

While we must understand the constraints posed by our geographical location in Okinawa, the southernmost region of Japan, we are not defined by our location. We maximize the advantages of our location, using the world as the canvas on which to draw our own picture.

We are determined to present ourselves as an organization which contributes to the world by transmitting solutions required by the world in accordance with our sense of values as well as sense of mission.
PRODUCTS
Diagnostic Ultrasound Imaging System US-304
The US-304 is an ultrasound scanner which has been specially developed for developing countries around the world. It is designed to be marketed at drastically low price compared to the conventional systems available in the Western countries and Japan, defying the common pricing practice for diagnostic ultrasound imaging systems. One of the special features of the US-304 is its connectivity to the USB port of a notebook computer for stable power supply from its battery even if the main electricity supply is unstable, allowing its continual use during a power outage.
The device is remarkably light, weighing some 170g, and is very portable. In the case of damage or breakdown, disassembly or repair is unnecessary as it can simply be replaced by a local agent. The device fully exploits Japan's state-of- the-art power source technology, sensor technology, analogue sensing technology and imaging technology, and offers the highest possible resolution and gains with the extremely limited power capacity of USB connection.
The image below was produced using our product (the quality of the video has been affected by compression)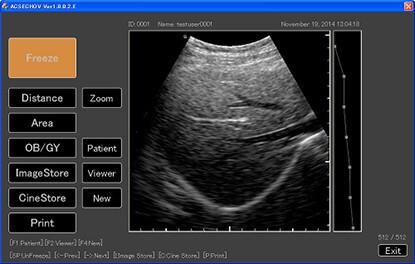 Marketing and Support Policies
Our business philosophy is never to add any unnecessary cost to our products and to always offer products which can be used with peace of mind and which precisely respond to the diverse needs of developing countries.
The US-304 is sold directly to end users together with full after-scale support via agents in individual countries. We are constantly improving our technical support and network support tools so that our agents can provide unique services reflecting the usage and economic environments in their own countries. We provide reliable logistical support to ensure customer satisfaction. We are open to individual sales negotiations for NGOs and other organizations involved in international aid or public health activities in various countries. If you are such organizations or are interested in becoming an agent for our products, please do not hesitate to contact us.
Product Specifications

Probe type: Convex
Frequency: 3.5 MHz
Dynamic focus
Weight: 170 g
Size (exterior dimensions): 85 mm x 140 m x 2
Power supply voltage: 5 V
Consumption current: 350 mA
Acoustic output: 1.9 or less (MI)
Materials

Probe sensor: silicone rubber
Probe exterior: ABC resin
Standard Accessories

Micro USB adapter
Browser software
Warranty

One year (extensions available beyond two years for an additional fee)
Country of manufacture

Japan
COMPANY &
INFORMATION
Company Name
Lequio Power Technology Corp.
Chief Executive Officer
Tetsu Kawamura
Address
1-20-13 Nishi Tamaki Bldg. 3F, Naha, Okinawa 900-0036
Phone: 098-868-9500
Fax: 098-868-9500
Capital
JPY 77,195,000
Founded
2011
History
| | |
| --- | --- |
| November, 2011 | Lequio Power Technology Corporation Founded. |
| March, 2012 | Capital increased to JPY 10,000,000. |
| January, 2013 - | Joined the Dr. Car Project in the Republic of Sudan |
| April, 2013 | Capital increased to JPY 15,500,000. |
| January, 2014 - | Entered the generic medical equipment business for emerging markets. |
| January, 2015 | A project to expand the use of our ultrasound scanners in Sudan was adopted by JICA. |
| October, 2015 | Our headquarters have been relocated within the same township and expanded. |
| August, 2017 | Capital increased to JPY 77,195,000. |